Story by Matt Hollinshead | Staff writer, Rio Rancho Observer | Sep 6, 2021
The following article is reproduced here with permission. Original link: https://rrobserver.com/knew-company-project-would-clean-cuba-area-water-develop-economy/
Copyright © 2021 Rio Rancho Observer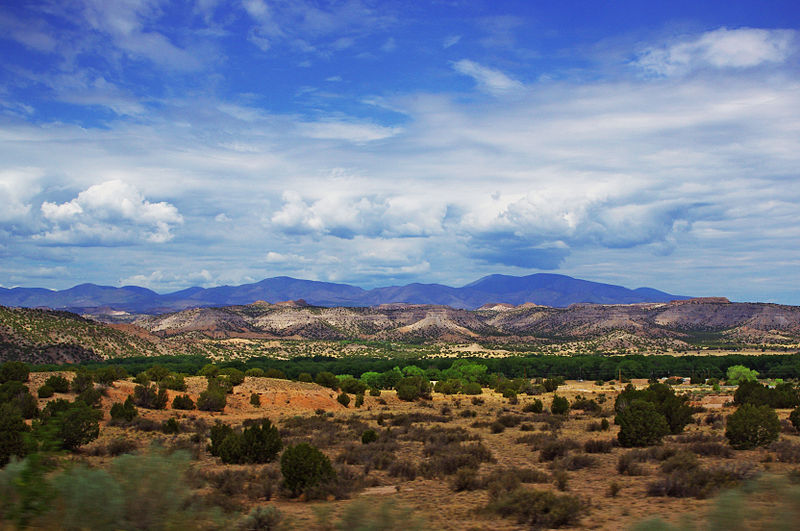 The KNeW Company stays mindful of the bigger picture in improving the Village of Cuba's water quality, notably, the ripple effects for possible economic and infrastructure development, leaders say.
Improved water quality in local hotels can lead to more pleasant showers for guests, better-tasting food at restaurants and no calcium buildup in pipes.
"When water deteriorates, everything tends to follow. When the water quality improves, we suspect that everything will improve along with that, as well," said Aubrey Howard, the co-founder and CEO for KNeW.
According to its website, KNeW is a San Diego-based company that transforms brackish water and acid mine drainage into valuable fertilizers and clean drinking water by using environmentally responsible processes.
The technology was developed in South Africa with a combination of South African government and private equity financing, according to the website. The company's New Mexico facility is in Cuba.
Jason Griego, who oversees the Cuba facility, said the primary objective is to remove the excess salts and minerals from water and convert them into fertilizers. He said the byproduct would be pure water.
"We have no emissions, if you will. We have no wastes in what we're doing. There's nothing that's going to be wasteful or cause an environmental issue. One hundred percent of everything that we produce will be used," Griego said.
He also said the only waste would be two tons of sodium chloride, i.e. table salt, which can be used to de-ice New Mexico's roads during the winter.
The broader impact
Griego said the immediate economic impact of KNeW is 15 permanent jobs at its fertilizer facility, as well as at least five jobs at the ion exchange plant run by the Village of Cuba.
Aside from how homes and businesses will benefit, he said the cleaner water will help attract new residential construction to Cuba.
"The key component is having clean water. If you talk to most of the business owners in Cuba, one of the big issues there is water," Griego said. "We do currently have businesses that are asking, 'What's the production? Are X, Y and Z businesses allowed to come in and tap into that water?'… I can tell you there's other businesses already looking at coming into that area."
Howard said the facility will also help farmers because they won't have to fully rely on seasonal rainfall to grow their crops.
He said KNeW can help bring an additional 20 million gallons of water a day to Rio Rancho, which consumes about 18 million gallons of water daily during the summer.
Griego said of the $17 million in annual fertilizer sales, roughly $980,000 will go to the Village of Cuba and Sandoval County via gross receipts tax money.
How it started
Cuba Mayor Richard Velarde wrote in a May 24 letter to the U.S. Department of Agriculture's Rural Development program that "Cuba has a serious water problem that does not lend itself to conventional solutions" and the municipal water infrastructure and tanks "are fouled with calcium buildup."
"The village's water has a rising level of arsenic, and there are high levels of iron, sulfur and mineral salts. Without a new source of water for drinking and economic development, Cuba will not survive," Velarde added.
Griego said if one turns on a water faucet in Cuba, the water smells like boiled eggs. Therefore, most residents drink bottled water, he said.
"(A 2017 study) shows that those storage containers (that) have a million gallons of water are deteriorating. I'm talking six to 10 inches thick of calcium buildup on the bottom of it. Those tanks are rusting," he said. "This didn't happen overnight. This has been going on for years and years."
But now KNeW can clean the dirty water from the local deep-water aquifer, he said.
Howard said businesses in Cuba are depending on water softeners because of the poor water quality.
"(Hotel guests) smell like eggs after they shower. Their toilets oxidize brown from the iron in the water," he said. "When you change this corrosive water that's going through their systems that requires them to change out their water heaters, it's going to have an indirect economic impact on the residents alone."
Griego said Cuba is signed on to have KNeW produce 515,000 gallons of clean water per day for the town. He also said the village already produces 500,000 gallons from its wells.
"We can actually both clean our source and also clean theirs, which would give the village about 1.2 million gallons of water per day," Griego said.
Partnership has support
Griego said the project has garnered support from the Sandoval County Commission, Cuba's Village Council, Cuba residents, U.S. Sen. Ben Ray Luján and U.S. Rep. Teresa Leger Fernandez.
"We rely on the fertilizer for profitability, and any water sales generated is a bonus. That's why we're able to form this partnership with Cuba," Howard said.
Cuba owns and uses the water, while KNeW owns and uses the waste that comes from the facility, Howard said.
"They've not only got high-quality water, but they're getting it at zero cost," Howard said.
The current situation
Howard said KNeW's waiting for the formal OK to remove brackish water from the ground and generate clean water. From there, clean water will be sent to Cuba, while the waste will go to KNeW's facility.
A $6 million study conducted by Sandoval County in 2011 reports that the aquifer under the county is a confined brackish water aquifer at a depth of 2,700 feet. Testing and analysis revealed at least 576,000 acre-feet of recoverable water, and the aquifer may store up to 2.6 million acre-feet of recoverable water.
An acre-foot is almost 326,000 gallons, enough water to cover an acre of land a foot deep.
Sandoval County had been looking at shipping waste from cleaning dirty water to Texas, he said.
Although KNeW is entitled by law to have senior rights to the aquifer, Howard said the company's philosophy is that communities like Rio Rancho and Cuba should have senior rights on what to do with the water supply.
Howard said the Cuba project costs $20 million. He said $13 million will go toward the fertilizer plant, with the remaining $7 million for the ion exchange plant.
Howard said KNeW put in an application with the USDA for a low-interest loan, qualifying for $13 million. The Village of Cuba must fund the other $7 million.
Lujan, Fernandez, county officials and village officials pledged to help the community raise that money, Howard said. He also said once Cuba does so, the project will kick off.
"All things being equal, if we keep going the way we're going right now, I suspect it'll be in the next two to three months," Howard said.
You may also like this