We provide resource solutions.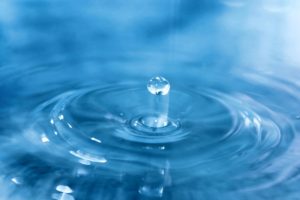 Born out of a passion to help communities thrive, the KNeW Company, LLC (KNeW Process®) was created to solve one of the world's most critical problems–access to food and clean, fresh water.
We transform resources to create and provide fertilizers, water, and economic solutions to communities around the world.
We use proprietary and patented, environmentally responsible, processes to transform brackish water and acid mine drainage into valuable fertilizers and other plant nutrients and clean, fresh water.
We are committed to solving the water/food stress nexus.
Because the water/food stress nexus jeopardizes the future of our children and generations to come, we must act now to find solutions.
According to a study conducted by SHELL citing the World Economic Forum, "the world could face a 40% shortfall between global freshwater demand and supply by 2030. At the same time, it has been estimated that there will be 50% growth in food needs, with demand for beef increasing by more than 80%."
KNeW's solutions not only increase the supply of fresh water, but they can turn non-arable regions into thriving economic and agricultural communities by using the fertilizers and water generated from the process.
---
Our Mission
Our mission is to help communities thrive by transforming resources and waste into environmentally responsible water, food and economic solutions.
---
A Scientifically Proven Process
The KNeW Process is not just a concept. It has been built and is operating a Demonstration and proof-of-scalability plant in Johannesburg South Africa, where fertilizers and water are being generated.
The KNeW Process combines well-known and scientifically proven methods with our patented and proprietary processes to construct processing plants.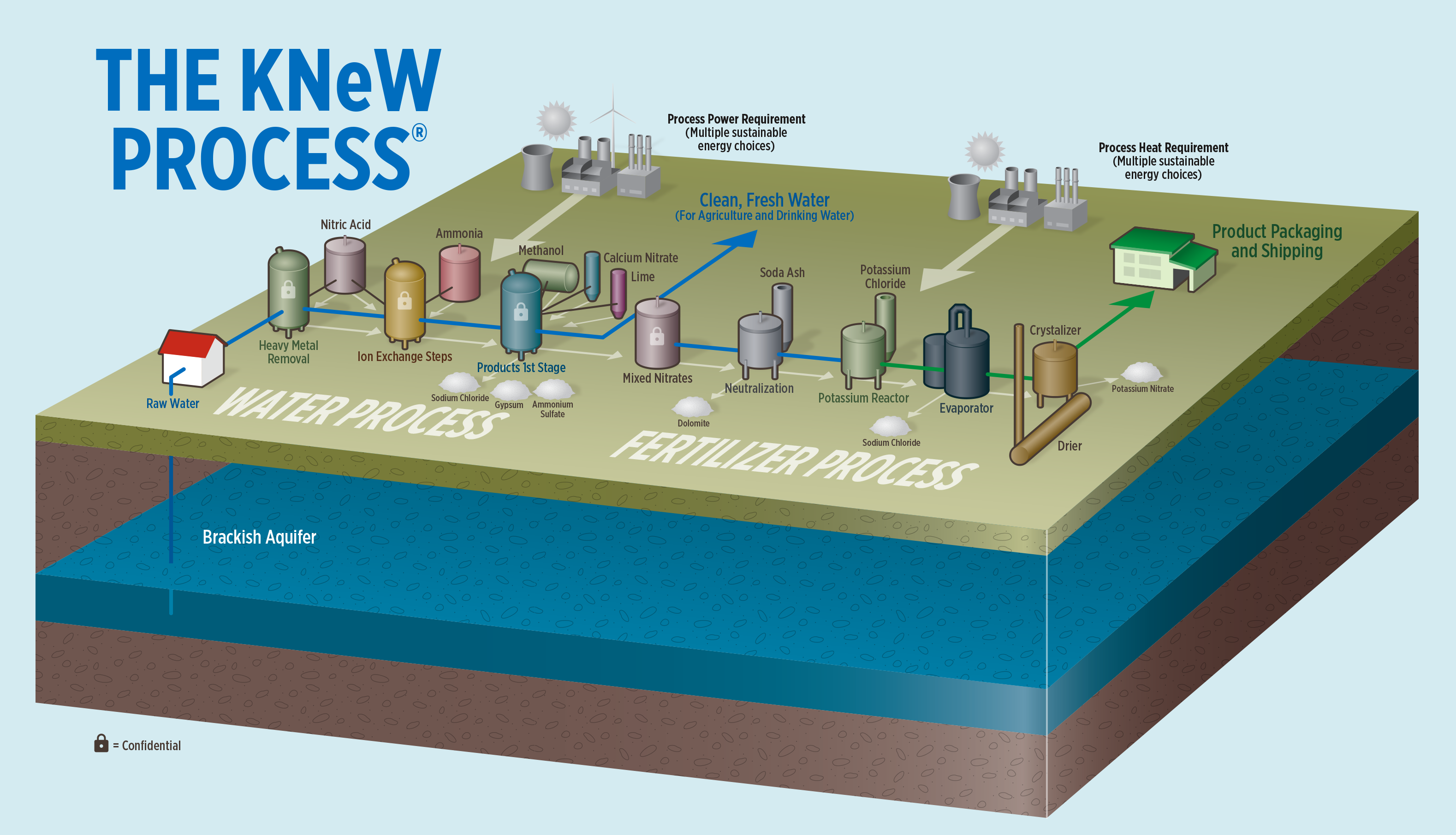 History
Founders John Bewsey and Glenn Howard have worked together for several decades in the creation, expansion, and monetizing of successful start up companies. Mr. Howard and Mr. Bewsey formed a holding company, GlenJohn Capital, for the KNeW Company and other holdings.
The KNeW Process® is one of 25 patents that Bewsey has to his name, and the pair feels that this might be their most important endeavor to date. Both bring considerable global connections and know-how to bear.
Recognition and Alliances
KNeW Process® inventor John Bewsey has earned many accolades over his illustrious career, including the prestigious 2013 Institution of Chemical Engineers iChemE award for Water Management and Supply.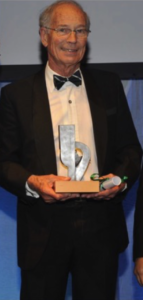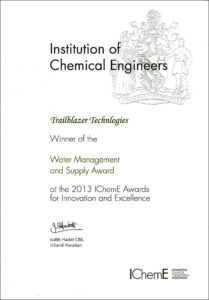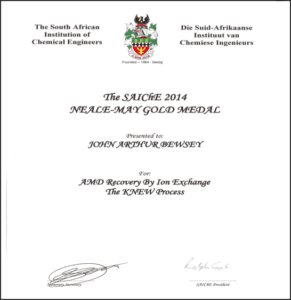 The KNeW Team
KNeW is led by a management team with a proven track record in new business startup, large-scale manufacturing, chemical production and international fertilizer production and sales.
Brings 50 years of corporate management and fund raising experience to KNeW. Glenn created a successful chemical manufacturing company in 1968 with John Bewsey, the developer of KNeW. After 11 years of operation, the Anglo-American Group acquired the company.
Aubrey Howard
Co-Founder,
Chief Executive Officer

Startup and new business company expert, Aubrey has worked with many entrepreneurs to expand their businesses. He was responsible for the design, building and management of a fermentation plant (WETMIX) producing food preservatives from microorganisms. The patented fermentation process involved a microorganism discovered by Aubrey and Professor Leon Dicks. The discovered organism is logged with the American Type Culture Collection Bank. He started BayWatch Armed Response, a security services business, which redefined the approach to security services.  After gaining a significant market position, the business was acquired by Tyco Integrated Security (ADT).
A well-known scientist, holder of 29 technology patents in fertilizer and mining processes, and the inventor of KNeW 's technology. John has been recognized by the International Institute of Chemical Engineers for the invention of KNeW's technology, earning the organization's highest award for new technologies.
A corporate, business and tax attorney, Bradford has extensive experience with companies ranging from startups looking for investors, to mid-size companies with gross revenues over $50,000,000, to closely-held family owned businesses. His areas of expertise include corporate and business tax law, federal and state securities law for private placements and offerings to accredited investors, corporate mergers and acquisitions, and corporate governance matters. He holds a Bachelor of Arts degree, cum laude, in Economics from Harvard University, a Masters of Business Administration in Finance from the University of California at Berkeley and a Juris Doctor degree from the University of Wisconsin.
A construction attorney, Kim is recognized as a leader in her field. Kim has vast experience in the construction industry, providing legal guidance to large contractors, subcontractors and banks on projects including hotels, offices, hospitals, residential developments, retail developments, and colleges. Kim holds a BA LLB from the University of Cape Town and graduated with honors. She earned a Masters in Arbitration & Construction Law from Kings College London, winning awards for academic performance.
Bruce Gryniewski
Public Affairs and
Communications Advisor
Bruce has a wide range of public affairs and communications experience in the permitting and regulatory processes for complex natural resource infrastructure projects. Prior to working in public affairs, Bruce served as Executive Director of Washington Conservation Voters and was recognized as a national leader in environmental policy and sustainability.
Derek Vogel
Branding and
Communications Advisor
Derek has crafted the brand stories of companies in industries spanning sustainable and organic agriculture, motion picture and entertainment, telecommunications, travel and tourism, economic development, and mining.  With a passion for technology and entrepreneurship, Derek brings extensive senior-level brand and design strategy experience in both traditional and digital media. Derek is committed to giving back to his community and has served on numerous non-profit boards.